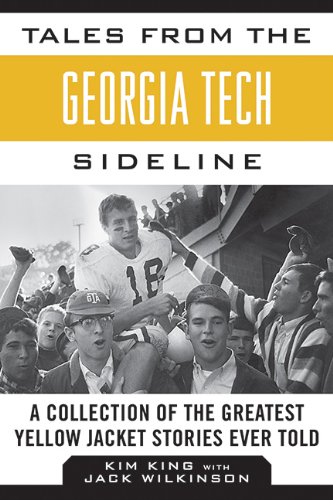 In this reissue of Tales from the Georgia Tech Sideline, former quarterback Kim King shares stories from his unique half-century involvement with Yellow Jackets football. As a child growing up in Atlanta, King watched Coach Bobby Dodd's great Tech teams of the 1950s play in historic Grant Field. A highly recruited high school quarterback, King went to Tech and became the star quarterback from 1965–67. "The Young Left-Hander," as late Tech radio announcer Al Ciraldo called King, led the Jackets to two bowl games and was Bobby Dodd's last quarterback before he retired after the 1966 season.
King's involvement with Tech football did not end with his graduation. In 1974 he joined Ciraldo in the radio booth as Tech's color commentator. In the book, he details Tech's struggles after Dodd's retirement; the colorful and turbulent Pepper Rodgers years; Bill Curry's painful first coaching steps back at his alma mater before restoring Tech to prominence in the mid-'80s; and the two awful seasons Bobby Ross endured before the historic 1990 breakthrough, culminating in Georgia Tech's fourth national championship. Following Bill Lewis's disastrous tenure in the early '90s, George O'Leary revived Tech football yet again before his controversial departure for Notre Dame led to Chan Gailey's arrival on The Flats.
Kim King saw many of the Jackets' bowl victories and nearly 50 years of Tech football before his death in 2004. He shares those memories, along with his personal reminiscences of Tech players and coaches, triumphs and travails, in Tales from the Georgia Tech Sideline.